Improve the Reliability and Efficiency of Your HVAC Unit
The purpose of a preventive maintenance program is to protect the life of your HVAC unit, as well as to regulate indoor air quality. One of the most fundamental components in your preventive maintenance program is air filter replacement. Why? Because the air filter protects the heart and soul of your HVAC equipment, the evaporator coils.
When it comes to air filtration, not all solutions are created equal. Conventional box filters fail to completely protect the evaporator coil. This is because standard box filters are designed to be a ½ inch shorter than the filter track on all sides for ease of installation. These gaps allow dirty air to bypass the filter, which results in an ineffective system that costs you more.
Our best-in-class PleatLink® filter complements any HVAC preventive maintenance program by using patented technology that eliminates air bypass. Using one continuous piece of oversized media that's custom-fit to your HVAC equipment, the PleatLink® system provides a gasket-like seal for complete coverage in the filter track. It stops dirt from going between and around the filter. The PleatLink® system has been proven to lower energy costs, reduce HVAC unit repairs, and extend the useful life of your equipment.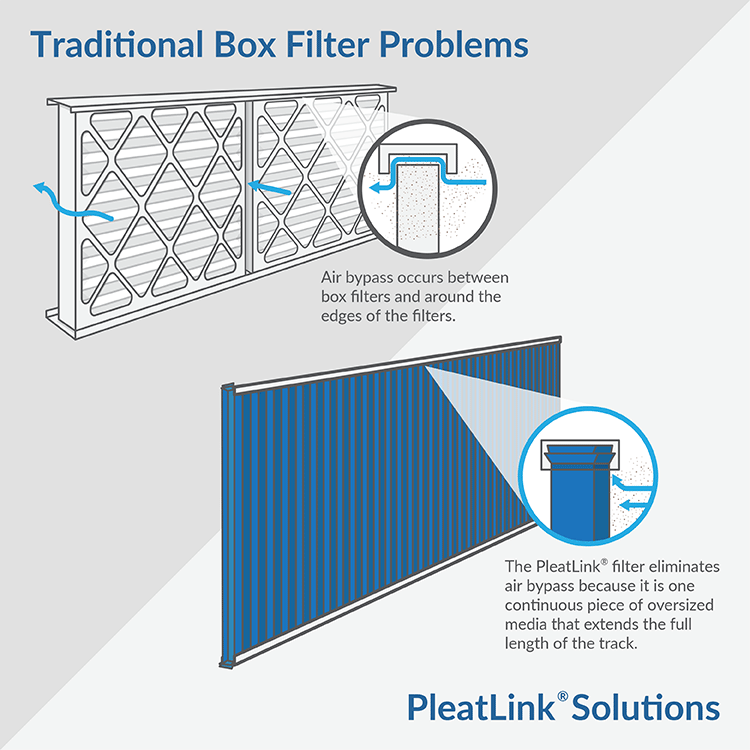 Run Cleaner. Run

Greener

.
The innovative cardboard-free design of the PleatLink® system also means that it is one of the most environmentally friendly air filtration systems available, not just in design, but in the benefits of transporting the filters. Where others would need 20 cardboard boxes to transport one case of standard box filters, we use one bag for the same quantity of our PleatLink® filters. That means we can transport more filters and service more customer sites with less travel time than anyone else.
Together, we're saving more trees, decreasing the cardboard impact to our waste stream, and reducing transportation emissions.
Have a Representative Contact You!