The Importance of Coil Cleaning
Coil cleaning is an essential practice for any preventive maintenance program. Our coil cleaning program enables evaporator and condenser coils to operate efficiently, reducing energy costs and improving unit performance.
Neglecting scheduled maintenance can significantly diminish coil performance due to airflow restrictions and reduced heat transfer capabilities. Dirty coils can contribute to equipment breakdowns, increased energy consumption, and ultimately a shortened lifespan of your HVAC unit. At BFC Solutions, we recommend a planned preventive maintenance program that pairs coil cleaning with our best-in-class PleatLink® filter installation to prevent fouling of the evaporator coil and extend the time between coil cleanings.
The 'before' image below shows how dirt accumulates on evaporator coils when conventional box filters are used. Gaps on all sides of the filters allow dirty air to bypass the filter resulting in stripes of dust and dirt on the evaporator coil, known as tiger striping. The 'after' image shows a coil that has been regularly serviced with our PleatLink filter in a harsh environment for over two years. As you can see, there are no 'tiger stripes' of dirt.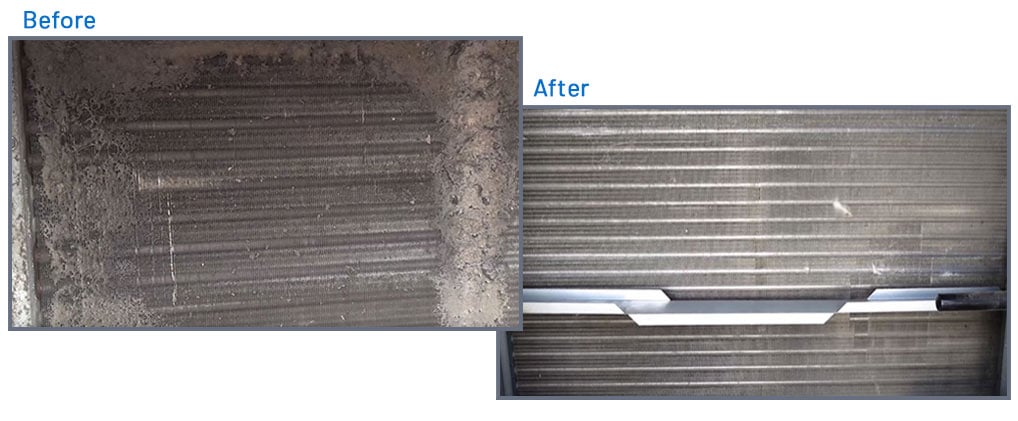 The BFC Solutions Coil Cleaning Program
Our programs includes cleaning:
Evaporator and condenser coils
Refrigeration racks
Walk-in coolers
Self-contained units
Air handler units
Our coil cleaning program requires minimized equipment downtime and adheres to environmental considerations, such as water reclamation. We assess environmental compliance in multiple steps, working within regulatory jurisdictions and any local city, state or county requirements. We will work closely with your staff to ensure we adhere to all rules and regulations.
Have a Representative Contact You!